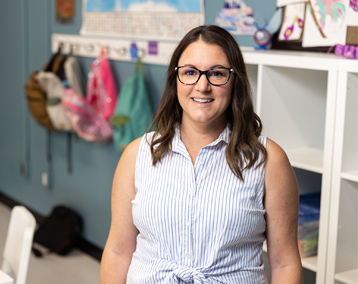 Janet Greener
Director & Beechwood Brainery Founder
Our children deserve a space to heal, grow and reach their potential
Fostering an environment of belonging is in my DNA. I have two sisters, Leslie (older) is my protector and guide, Beth (younger) has Down Syndrome and is my motivator and educator. I am beyond fortunate, my parents raised us all to be individuals with the strength and resilience to live and model belonging.
I take every opportunity to learn, train and engage in methods of education. I continue to find my passion working with those who are underestimated. There is value and a future for every single human on this earth, no matter their path to where they are now or desire to be. Joining the journeys of others as a support, a resource, a confidant, a mediator, a teacher, a guide, and a friend is the greatest gift I can give back to society.
Through the years I have experienced the resistance to growth and the ignorance of misunderstanding and strive daily to break down barriers. My diverse education and experience allow me to provide individual support that is flexible and progressive.
Working with a collaborative team of clients, family, educators and service providers creates a holistic approach to lifelong skills and quality of life. Communication and cooperation is a foundation to the mission of Beechwood Brainery. Beechwood's purpose blossomed because of the noticeable "gaps" in our current education and therapeutic social systems.
Social Service Worker Diploma
Mohawk College
January 2021 – April 2022
Mental Health & Disability Management Certificate
Mohawk College
September 2019 – April 2020
Trauma Certificate
Wilfrid Laurier University
March 2019 – January 2020
Recreation & Leisure Services
Minor: Therapeutic Recreation
Mohawk College
September 2002 – April 2004
Red Cross Psychological First Aid: Caring for Others, Self-care
2020
SafeTALK Suicide Prevention Training
2019
Non-Violent Crisis Intervention Training
2019
Emergency First Aid & CPR
2019
Proloquo2go Trainer Certificate
2012
Applied Behaviour Analysis (ABA)
2011
Learning & Gravity Balance Board Therapy
2010
Neuro-Sensory-Motor Reflex Integration Certification
2010
EFT – Emotional Freedom Technique
2009
Brain Gym Certification
2009
In Training – Non-Certificate Programs
Relationship Development Intervention (RDI)
14 years experience under Certified Mentor
Rapid Prompting Method (RPM)
Apprenticeship in progress
Waterloo Region Track 3 Ski School – Board Member/Vice President, Instructor & Student Development Chair
1995 – present
Sports for Special Athletes  – Coach
2019 – present
Waterloo Region Family Network (WRFN)
Governance Board Member
2021 – present