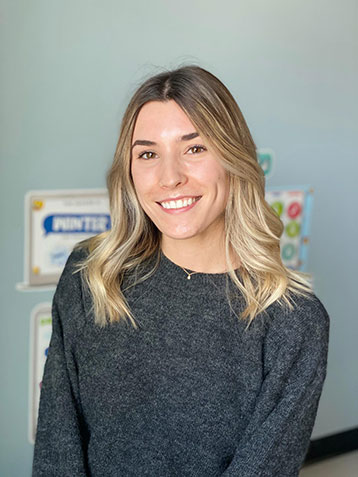 Brenna Tessier
Program Manager/Elementary Teacher
Brenna has attended Brock University for her Bachelor of Arts (honours) degree in Child and Youth Studies with a minor in French Studies. She later attended Mohawk College, completing her Mental Health and Disability Management Post-Graduate Certificate.
She has experience working in educational settings with both children and youth and as a part of a multidisciplinary team working in collaboration with the individual, family and community organizations. She is certified in Standard and Psychological First Aid, Safe Talks Suicide Prevention and Non-Violent Crisis Intervention Training. Also, she is certified in Counselling Children and Adolescents and is Multi-Sensory Environment trained.
Brenna is well versed in several different mental illnesses, disabilities and their comorbidities and her altruist personality allows her to connect and build positive relationships with everyone she meets. Brenna looks forward to getting to know each and everyone of you and hopes to have a positive impact on your education experience at Beechwood Brainery.
Mental Health and Disability Management Certificate
Mohawk College
2019-2020
Child and Youth Studies Honours Degree
Brock University
2014-2018
Counselling Children and Adolescents                                
Udemy
2020
Psychological First Aid
John Hopkins University
2020
Multi-Sensory Environment (MSE) Training
Mohawk College
2020
safeTALK Suicide Prevention Training
Mohawk College
2019
Teaching English as a Foreign Language (TEFL)
International open academy
2019
Standard First-Aid and CPR C
Life Saving Society
2020
Non-Violent Crisis Intervention Training
Mohawk College
2019
The Science of Well-Being
Yale University
2020
Solution-focused Coaching Workshop
Mohawk College
2019
Early Intervention and Prevention Systems
Brock University
2018
ABA Volunteer       
Centro D'Autismo, Santo Domingo, DR
2018
Sensory Therapy Volunteer
Angele Dei, Santo Domingo, DR
2018
Movement Partner
Children's Movement Program (CMP), Brock University
2017 – 2018
Activity Program Volunteer
Special Needs Activity Program (SNAP), Brock University
2017 – 2018